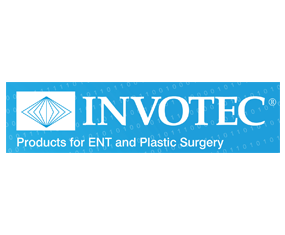 Invotec International was founded in 1990 in Jacksonville, Florida. Since the beginning, they have evolved into a world class supplier of Instruments, Optics, Implants and supplies for ENT, Plastic and Cosmetic Surgery.
A key part of Invotec's ongoing mission is providing a wide selection of superior quality products, priced for best value. The Rhinology Accessory portfolio stands as Invotec's global flagship business line. The highest quality, advanced design and softness of the Breathe-Easy™ Septal/Airway Splint, joined with an expansive selection of Custom Cut silicone & fluoroplastic splinting and sheeting, sets Invotec apart in the world Rhinology supply arena. Swiss Therapy® masks and sheeting have evolved into the benchmarks in PostOP Blepharoplasty, Rhinoplasty and Laser/IOL Skin Treatment Cooling Comfort accessories. From state of the art Titanium Ossiculoplasty Implants, to the proven clinical effectiveness of the Otovent auto-inflation system in relieving the symptoms of Otitis Media, Invotec stands above the Otologic Surgeon with optimum priced products. Having access to over 6700 patterns of German crafted surgical hand instruments gives Invotec the ability to economically build surgical sets for most ENT and Plastic surgeons, including Sinus, Naso-Laryngeal, Otologic and Aesthetic procedures.
Invotec is deeply focused on customer service as demonstrated by their warranty. They guarantee their products to be free from defects in material and workmanship. Invotec will replace or provide a refund for any product found to be defective.
They are committed to bringing you the best value for all your ENT and Plastic Surgery supplies with thepersonal service you deserve.